I am such a lucky girl to be designing for Merly Impressions! Since joining the DT I got to meet a lot of lovely ladies, I made friends with my extremely talented co-DT members, I got to play with some super gorgeous Kaisercraft goodies but most of all Chrissy (Merly Impressions owner) trust me sufficiently to leave me in charge of the monthly challenge as well as coming up with some brand new project close to my heart. I am here today to introduce one of those projects:
The idea is that every month I will select stash for a total that comes under £10 (p and p not included) and create a minimum of 3 layout with it. No cheating: no extra bits and bobs. You will be able to buy the same products and create exactly the same layouts. I will include a few tips, the why's and the how's as well as my thought process. Ready to start?
Here is what I used: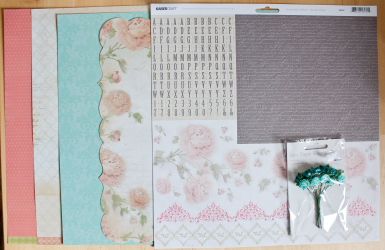 We have two sheets of double sided 12×12 papers (Vision and Fantasy), one sheet of speciality paper (Prayer gloss), one sheet of die-cut paper (Contemplate), the sticker sheet and a packet of mini blooms in the sea breeze shade. It all come to a total of £9,94. Why didn't I choose only the cheapest papers? The die-cut paper is so gorgeous you will definitely feel spoilt but it also has enough printing on it to minimise the need for extra embellishment. The glossy paper is perfect for inking and painting on as the clear-embossed flourishes will remain the same colour after you've played with it: it will give the illusion that you had more papers to start with. I chose the sticker sheet as it is a great way to embellish your layouts on a budget and it contain the alphas you will need. The mini blooms are here for extra dimension and texture as well making your layouts more expansive.
Now you know the ins and outs of this new project here is my first layout: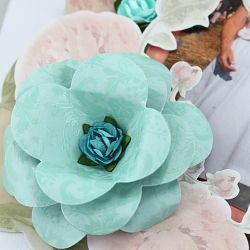 For more tips on how I designed this layout please visit my DT post on the Merly Impressions Blog and if you want to know what else I was able to design with the left over then keep an eye on this blog as there are two more post on their way! I hope this inspired you!