Well! I am very excited! Not only because I am back to blogging (explanations at the bottom of this post if you want to hear my rant! lol) but because today is the start to the new super amazing challenge at Merly Impressions!!! We challenge you to scrap about YOU! And you know what? You have until the 12th of May to enter a layout and you could win a £20 voucher!!! Yes
£20
!!! WOW!!! You can find all the details
here
and the challenge post
here
.
Here is my layout: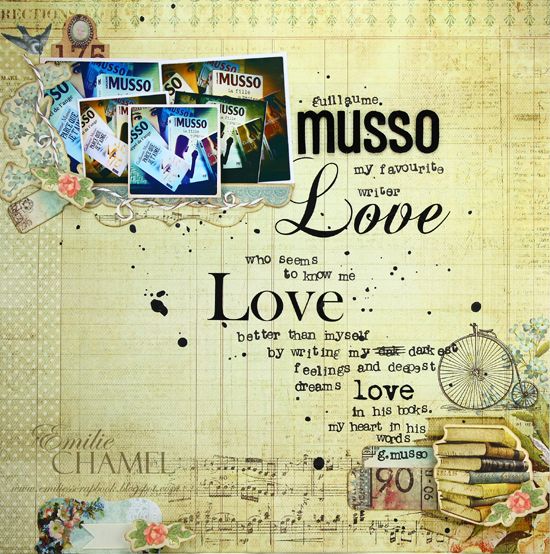 As it is a challenge calling to scrap about ourselves I decided to talk about my favourite writer Guillaume Musso. I love love love his books!
A few close up: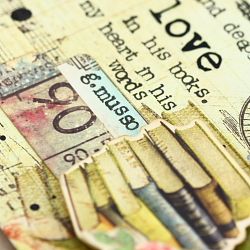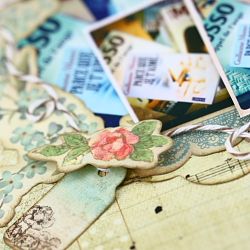 I adore the
Sweet Nothings
collection from Kaisercraft!!!
So come on and play along!!! The prize is amazing!!!
So going back to the subject of me not being around lately, on the 6th of April my laptop decided to "kick the bucket" and join the electronic heaven. Lucky enough I often transfer all my photos on a separate hard drive so my losses were kept to a minimum BUT ( and it is a BIG "BUT") my other half is NOT one for shopping trips! And guess what?! Our closest PC World is situated at about 30 minutes drive from home via the motorway. Not an issue I hear you say, you are right it shouldn't be BUT my (supposedly) better half HATE going to Carlisle and hates even more being stuck in any shop of any kind (unless cycling or running related). Therefor the death of my laptop was followed by more than a week of bitter arguments over when we would go to buy a new window on the world. This explain why this blog has not been updated for a while!!! Finally we made it to the shop, trying to be reasonable and we ended up choosing a Sony Viaio. Half an hour later though we were walking out with an Apple iMac... Go figure... So I suppose he spoilt me to make up for the delay in getting us to the shop... So this is for the reasons of my absence from blog land! Anyway, now I am back and I hope this inspired you!!!